A3/II Sustainable mineral-bonded composites for structural impact safety – material design and application technology
The mineral-bonded composites developed in the framework of the first GRK 2250 cohort demonstrated the remarkable performance of hybrid fiber-reinforced composites when subject to impact loading. However, these composites assume a high content of Portland cement, which impairs their environmental friendliness. Furthermore, in the context of structural strengthening by thin layers, the application technology of these composites imposes an additional challenge. The fresh matrices with and without fibers must be ap-plied by spraying or lamination on existing substrates, desirably involving an automated application process. In this context the continuous 2D or 3D-textile reinforcement should additionally fulfill the function of support structure.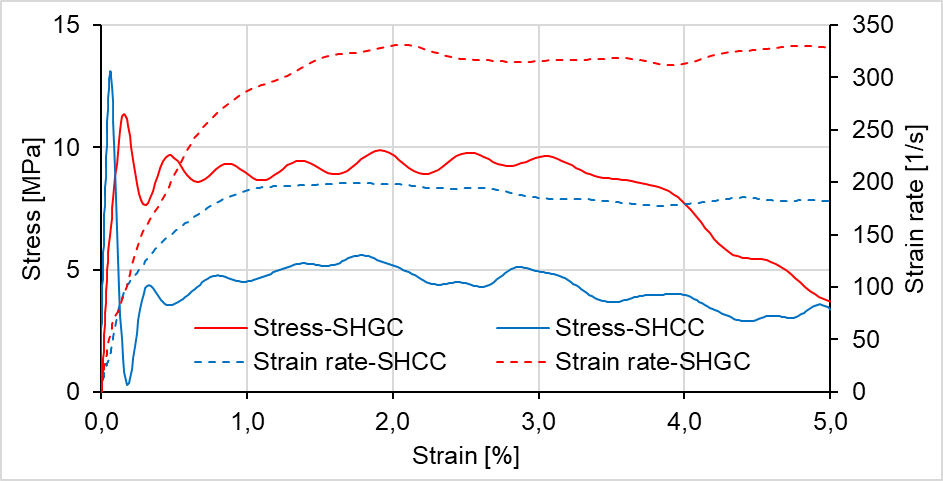 Comparative representation of the tensile behavior of Strain-Hardening Cement-based Composites (SHCC) and Strain-Hardening Geopolymer Composites (SHGC) under impact loading (Trindade, Heravi, Curosu, Liebscher, Silva, Mechtcherine, CCC 2020)
In the framework of the project a comprehensive design concept is developed for ecologocally and economically sustainable composites with a sufficiently high protective capacity against impact loading. The project deals with resource-saving binder systems, such as geopolymers and Limestone Calcined Clay Cements – LC3. Requirements towards the fresh-state properties of the investigated composites are formulated in the context of their automated processing. Furthermore, the influence of the rheological properties and application technology on their mechanical performance in hardened state are investigated. As a more sustainable and less expensive alternative to the high-performance polymer fibers commonly used in SHCC, short-cut polypropylene (PP) fibers are investigated as discrete fiber reinforcement.